Chroma
16.4
Industrial design
Personal project
Software application:
Solidworks; Keyshot; Photoshop; Illustrator; After Effect
 
Chroma is a snow sports helmet design with interchangeable goggles integration.
I love skiing, but I fell several times and got injured once when the light and weather condition changes rapidly and frequently from bright and sunny to super flat and overcast, which caused poor visibility.
I studied the visibility relationships between goggles and weather/light conditions, as well as delivered user research, concept development, prototyping and rounds of iteration. Chroma is modeled in Solidworks, rendered in Keyshot as well as Photoshop, and motional visualized in Adobe After Effect.
 
It is common for the weather conditions on the mountain to change during the day, or to even have several different extreme weather conditions at the same time. Light conditions also change extremely quickly along with the weather. It makes the environment of snow resort or backcountry skiing unpredictable and dangerous.
In such weather conditions, Ski Goggles are essential for skiers to improve visibility in two ways:
Reduce glare and enhance contrast.
When it's sunny, dark lens are the best to reduce glare from snow. In flat/overcast conditions when the visibility is poor, tinted lens goggles such as amber, are best to increase contrast of snow bumps and slopes. It alternates frequently and rapidly between different weather and light conditions on the mountains. But changing a different pair of goggles while skiing is dangerous and bothersome. Photochromic lenses can't change the color fast enough due to the light sensitivity of its material.
· Skiers need a faster and easier way of adapting the visibility to the rapid changes of weather and light conditions
· Chroma is the only snow sports helmet designed with two interchangeable light-weight goggles integration.
It is not only designed for head protection, but also aims to enhance skiers' visibility in the rapid-changing weather and light conditions on the mountain.
Make Visibility Adaption Extremely Faster
Chroma is integrated with two light-weight lenses for skiers to adapt to the rapid visibility changes.
· The dark outer lens is applicable for sunny/flat condition in order to reduce glare from snow;
· The amber-tinted inner lens is for overcast/foggy/snowing conditions in order to increase the contrasts of snow bumps and slopes ahead.
It Works Fast, easy, and Convenient
As the section view shown above, a tunnel structure is applied to allow the tinted inner lens to slide up and down. The dark outer can slide up and down outside the helmet as well.
Make It Even Safer Between Skiers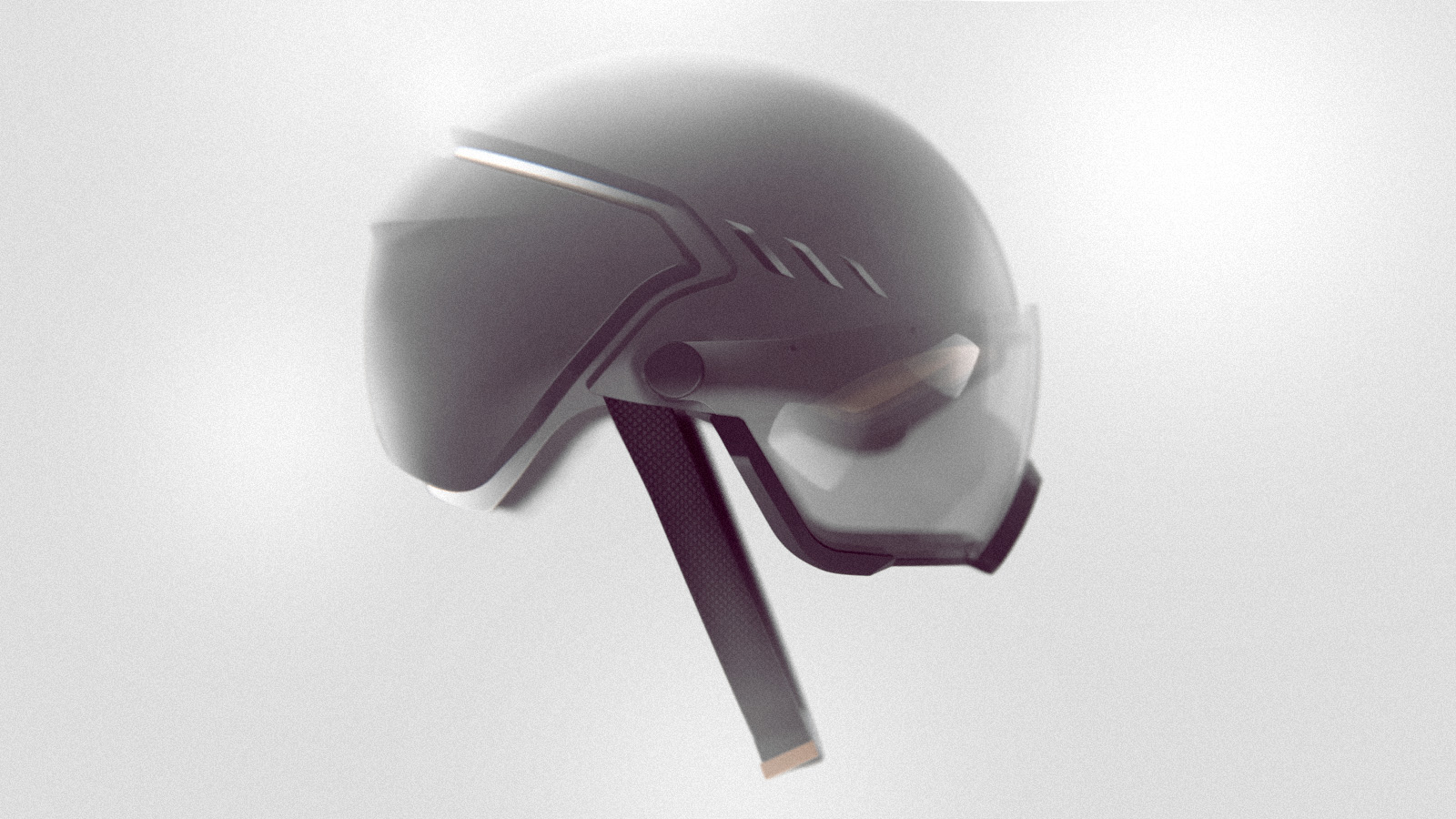 In a poor weather condition, visibility between skiers is poor as well. In order to make skier's helmet more likely to be seen and recognized from a longer distance, A 3M reflective material is applied. Light will be reflected when it arrives at the surface of the groove structure, where lies the material.
Inner Shell Leather Lining